We were supposed to backpack to The Enchantment Lakes area, having jumped through all the hoops to secure a set of coveted passes for the restricted, fragile, high alpine region. This was the weekend we wanted because the change of season brings a very unique sort of fall color – the larch.
Most normal people don't know what larches are. My mother-in-law thought it was a variety of slug, for instance. But Pacific Northwest nature photographers get a little crazy about the subject. It's actually a variety of deciduous conifer: a pine tree that loses its needles in a golden flush.  The variety that lives here, in the Pacific Northwest, resides only above 5000 feet, so in October, these golden beauties decorate mountainsides like The Queen's necklace, often just after they receive an early dusting of snow.
This is what we were after. This is why we chased those permits, planned this weekend, watched the weather, and panicked when, after a week of mostly sunshine, a strong Alaskan storm pushed into the area on Thursday and Friday. There are only a couple of people I trust to drag me into the wilds when weather threatens. Orion is one of them, as he has a knack for triangulating multiple weather reports, and out-guessing most weathermen. Many times has he called the weather correctly when the weathermen were wrong. It's easy to get mountain weather wrong, but at the very least, I trusted he could select the best locations to get to larches and avoid the worst weather.
First, our Enchantment location became sketchy, then we ruled it out, as the last section of trail is steep enough to collect snow at a moment's notice. In an alpine storm, nine miles of rough trails with 45 pounds of winter gear, tent, food, clothes, on your back quickly becomes the last choice. The final mile is a lot of scrambling, questionable even when it's just wet. Some of you think I am hard core, but I'm not crazy. Here we are staring at first snows of the season.  So after much deliberation and weather watching, we scrapped the idea and opted for a campground on Highway 20, along the northern route of the Cascade Loop instead. The goal was to day hike each day and get up to larches that way rather than backpack. It allowed for quick exit, should the weather turn really nasty. Problem is, when we left the Seattle area it was lightly overcast and dry. We were optimistic and hopeful. Ninety minutes later, the windshield wipers went on. Not long after, as we gained altitude, and approached our camp spot, it was a full-on down pour.
With views obscured due to low clouds and rain, we decided we could sit in an idling car at the campground, or drive the car through the picturesque highway and see some of the waterfalls we passed on the way in. The dramatic slopes of this area make waterfalls extremely dynamic. The ones that aren't fed by snow often run dry within a day of rain. This day, they were gushing. So, with extra towels and our cameras tucked in our raincoats, off we went to shoot in the rain. What else do you do?
Here's what we saw along that bit of road.
These are usually a trickle or non existent in the summer.
I think we really take for granted the engineering marvel that is mountain roads.
This is the stance: get your settings down, then shoot, dry camera, tuck and repeat.
We had a little fun, too.
We weren't even the only crazy people out there!
Then we turned and went back past our campground and ventured deeper into the mountains. Blue Lake was our hike slated for this Saturday, whose trailhead is between Rainy Pass (4700 feet) and Washington Pass (5470 feet).  Just before we got there, a 4X4 pickup with a camper was coming the other direction. He had just pulled off at an overlook on his side of the road. Just before we passed, the driver's door opened and the driver fell all the way to the pavement, head first. Passed out on the freezing, wet road. The two of us not driving said in unison, "We should turn around!"
By the time we pulled up behind him, he was conscious and standing back up. As we ran over to him to assess the situation, I said his license plate out loud, and noted it was a Georgia plate. He was tall, thin and dressed in shorts and sandals. There was snow gathered along the shoulder of the road. He said he'd had a panic attack. We began asking questions, stalling him from returning to his vehicle to continue down the road, which he looked intent to do. Are you all right? What happened? Do you have more clothes? Are you from Georgia? "My son is on the PCT. I am supposed to meet him at Rainy Gap." His voice was quivering, distraught. He was breathing hard.
The Pacific Crest Trail (PCT) runs along the spine of the westernmost mountain ranges of the US, from the Mexican border to Canada. It's 2600 miles of wild mountain footpath that is probably all too popular since it made the Silver Screen with Reece Witherspoon a couple years ago.
"I…I dropped him in Stehekin this morning, and I'm supposed to meet him at Rainy Pass. Do you know where that is? And this storm, this storm…. It's eighteen miles on that trail… I had a panic attack. I have to find him! Do you know where Rainy Pass is?" We assured him it was just a few minutes down the road, in the direction he was headed. "Could you lead me?"
Are you okay, yes, we can lead you, but you must go slowly, carefully. He nodded, called us angels several times, and in about a mile we reached the parking lot where he meant to be. He hopped out of his truck and almost hugged the yellow PCT signpost, "Yes, this is the sign! I am supposed to be right here!…You are angels, thank you all for your kindness." He was relieved but still frantic, gasping for breath. I asked again if he could get in warmer clothes, if he was okay. "Darlin' I had an attack, I am hot, I don't need more clothes just now…" 35 degree rain continued to fall. He looked up at the sky, over at the trail and stood motionless except his heavy breathing. Then he broke down in tears, covered his face with his hands and doubled over, exasperated, exhausted, frightened.
This is where you need to know that the vast majority of the North Cascades has no cell service. None, not even one bar. I tried my phone anyway. No dice. We're hell and gone from anywhere. Nearest tiny mountain town is 40 minutes east (through Washington Pass) or 80 minutes west. Neither of them have cell reception either.
The only other car in the parking lot was leaving, unaware of the situation. I ran over and flagged them down, asking to see if they had service. Nope. The last forest ranger truck we'd seen was about 50 miles down the road, back past our campground. I considered walking down the PCT a mile or so, but two lost people is no better than one. We waited. The rain continued. The man got in his truck and stayed there. We decided after a few minutes that we could go.
It was about 3 pm. Even an optimistic two miles per hour in this weather, with elevation gain, rough trail, (this section of the PCT is one of the more challenging in terms of elevation and weather), he might wait a while.  But he had clothes, heat and a vehicle. There wasn't much more we could do. So we continued on to Blue Lake Trailhead, just a mile up the road. We got out, sopping wet, and stood in the slushy snow of the parking lot for a moment before setting feet on the trail we intended. I guess we figured, heck, we're here, let's hike for a moment and see how it feels. Just then a couple dressed like they'd been through a Nor'easter came off the trail. They were pink with chill and shimmering, dripping across every inch. I asked how long they'd been out. About two hours. I couldn't imagine this much wet for two more hours, but we set feet on the trail. We walked for 6 minutes then turned around, content to have tried it.
Remember what that mountain looked like on Saturday… you'll need it in a minute…
Blue Lake Trail
On the way back to our campground, we passed the Rainy Pass parking lot and the man and his truck were still there. Once back at camp, we made an early dinner and I managed a campfire which roared for about an hour until the rain won. But not before we had roasted marshmallows and relived the moments of the day. We played cards in the car for an hour before giving up the rest of the evening. We crashed in the cars, since the tent pads looked like this.
Constant drumming on the roof drowned out the sound of the swelling, rushing river only a few feet away. The next morning I woke to silence. Sweet silence inside my truck. No rain. I could almost hear the river, and no other sounds. The tent pads had dried.
So we made our way back up to the pass and hiked. This is what we saw.
The morning cleared slowly, mist hanging among the valleys and trees.
Once on the hike, we saw them! In the distance, lighting up granite faces with gold.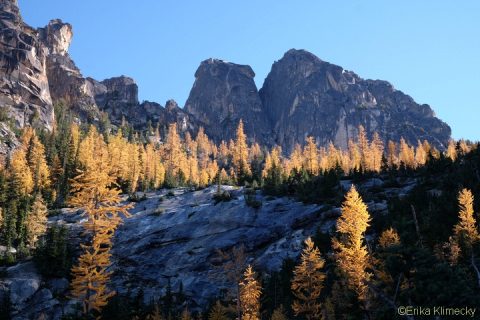 …snow all along the trail…
Remember that mountain from yesterday… tallest one, right of center (above). What a difference one day can make.
Blue Lake, elevation 6250 feet.
Washington Pass (see highway 20 below center, next to tree)