Time for photo catch up! I've averaged 750 photos per day and probably 20-50 video clips (because the sound and motion is really helpful sometimes! – I wish I could offer smellovision – there are curries and incense floating randomly throughout the city). I've also riddled my guides/hosts with a battery of questions and they have so kindly not killed me yet. So here are photos from the last few places I've been, and thoughts that may go with them.
This is the reason I flew out of Seattle on my son's birthday – Nepal's largest festival (holiday/celebration) of the year is during these 5 days. Marigolds are the signature decoration displayed during Tihar.
This is the other signature item: Colors. First it decorates the doorways of homes and temples, then it serves again during Dai Tikka (Saturday) – when sisters honor their brothers. There's also a Dog Day, Cow Day and Crow Day. Today was a rest day/shopping day, and tonight was more kids running through neighborhoods. Hey, they know how to celebrate!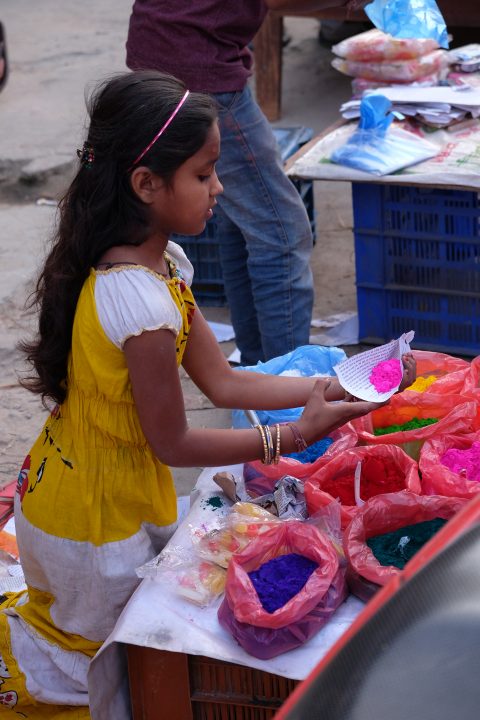 This little sweetie was running a color shop. She scoops a couple spoonsfull into a piece of newspaper, folds it and bags it up. However many you want.
Here's what they're use for. Last night kids followed these into open homes where they could sing for treats.The last one was in Bhaktapur Square and is about 6 feet across.
Okay, the cows. Yep, they're sacred here. There's actually a punishment for killing one in any way – you go to jail for a while. And here's where information gets tricky. A couple years ago, while walking through the high country, I asked if the cows were owned by anyone, because they seemed to be. Yes, I was told, they use them for milk, so they feed and pasture them.  So I assumed that was a universal answer… but it actually only applies to country cows. City cows are unowned and wander the streets and markets, rooting through garbage piles and generally just taking up space in a crowded city. They're like giant rats, if you think about it in a certain way. Giant, sacred rats. So today my friend Krish ordered beef steak at lunch. I asked him where it was from and he said it was imported from India. I asked the obvious question: Isn't it illegal to kill them there as well? Different rules for different states, was the answer.
Final note about city cows… They and I have an understanding: Whenever I'm in a car on the way across town (the perfect situation to see lots of cows in roadways) as long as my camera is on, looking for them, running video or waiting to snap, they don't exist. As soon as I shut everything off and put it in its bag, they appear in droves. Sigh. Nepalis have a saying: Ke garne – (shrug) what to do. They are pretty much everywhere, my camera just doesn't show it.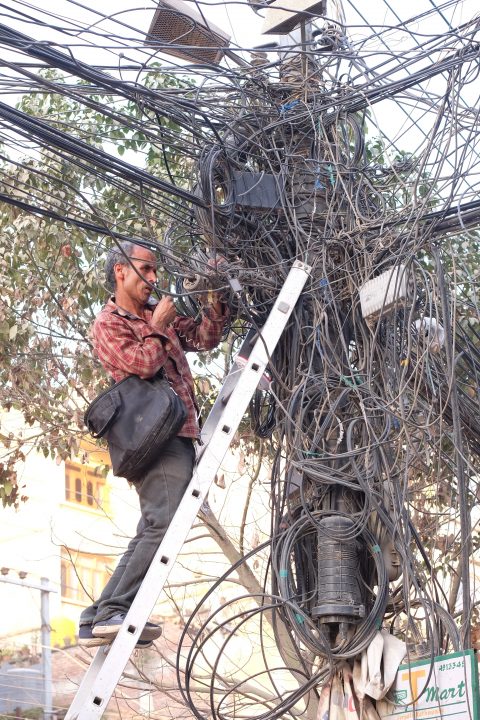 Next time your workday sucks, think of this guy. He's the phone repair man, and that's a pretty average phone/electric pole in Kathmandu. I watched him for a minute, and he hooked one set up, then called a number to see if he'd connected the right one, then repeated the process several times until he got through.
Sel roti are lightly sweet fried dough. A mix between donuts and cornbread. Served specifically for holiday celebrations. We had some really good ones here – at the base of our view at Nagarkot (mountain view).
Hi! Welcome to the Himalayas. I love them, they make me happy! You're looking at the set just west of the Everest Range here. These are straight north of Kathmandu, and visible from a high prominence on the north lip of the Kathmandu Valley. Its the Langtang range, which includes Shishapangma (8027 M – 26,335 feet), the snowy pointy one on the left.
Looking across a bit of the KTM valley
Pretty mountains with my tele lens. Um…I should say here, you are looking at raw photos – I didn't bring any processing software with me (because WHO is going to do that when they're here?!) So consider these photos-estimations of the beauty they will become later.
As I mentioned yesterday, there is still a bunch of destruction evident from the earthquake. The ancient landmarks, many of which were kings' palaces, are now temples and marketplaces, so business goes on around the piles of bricks and rescued relics.They optimistically think it will be 5 more years until things are mostly put back together. I bet a decade. Some of the oldest damaged buildings are 900 years old.
Section of damage that didn't result in a collapse. These are everywhere, and yes, I was allowed in some buildings with them. OSHA ain't here. The braces are each held in place by a piece of rebar hammered between brick pavers in the pathways.
Not that there isn't a ton of beauty still there! Interesting, magical and curious, the Hindu religion.
This is my postcard shot of Bhaktapur. Pretty happy with it.
The potters of Bhaktapur made an impression on me. They were spinning thousands of these little clay oil lamps to be used the same day – without firing, because that is what the holiday calls for. So trays and trays of little cups sat drying in the sun.
And I'll leave you with this guy, a happy old wanderer of the Bhaktapur marketplace. He says to tell you Namaste.