One of my folders of photos was almost lost during processing. I have an external drive that is dying and of course that was my destination drive. So a week after wrestling it, I have all my photos secured, processed and here is the trekking part. Danu and I considered going to Tibet, and I attempted to get a travel permit for Lhasa, but Tibet is not open to Americans right now, so I stayed in Nepal and took a new trekking route in the Annapurna range, west of Everest and Kathmandu. It was just four days, but it took em up to what I wanted to see: The giant Himalayan Mountain range, up close. It was just me, my guide and my porter. I knew the guide, Tsering, as he guided me and Marybeth in 2013. He lets me ask a bazillion questions about the route, the culture and when I don't have anymore of those, he teaches me Nepali while we walk. I even remember some of it. So here is what I saw when I followed them for the first couple days.
Bridges and steps and porters, oh my! Thank goodness you can hire people to carry your bag, because you certainly can't do it yourself. Ok, I could have, but it would have taken twice as many days and would have been grueling! Really, it makes the trip far more enjoyable – extra company and you're employing someone in their home area. He knew everyone wherever we stopped, which is beneficial because you get better treatment from the cafe and lodge hosts that way.
I was able to enjoy the people I passed, and interact with them… men visiting in the sun, boys on their way to school, and my porter saving my breath so I can say namaste with a smile to everyone I pass.
And I get to focus on my photography. People go about their day and I love that I can capture some of it.
My porter, Milan Sherpa, pets a goat on his way.
And you're walking through people's villages, their front yards, so you see them doing all sorts of things.
I love that they decorate special places with prayer flags.
Fear of bridges is okay here… you don't have to cross… but your alternative is a descent into the river valley, traverse of the river, and ascent up the other side. Take your pick.
I followed my porter along this road … past pretty houses covered in flowers…
…where butterflies sipped from tire tracks, until we turned off for lunch.
Packs go on the bench outside the lodge, and we sat under covered overlooks.
The flowers are tropical, the bridges are plentiful. After lunch we left the road and followed a narrow path up and up.
Terraces are endless, hand cut and rhythmically organic. It's common for a thousand feet of hillside to be terraces in 3- foot tall terraces.
A few hours later we reached our lodge in Tikhedhunga, a little village cut into a hillside.
On my first trip I decided that lodges in Nepal are neither hotels or what we call lodges. Instead they are a group of tents with solid walls and occasionally, electricity enough for a single light. They are sparse – a single bed, a tiny table and enough floor space to fit your bag.
All through out the spaces of the lodge are interesting happenings, like laundry, and grains drying on round baskets.
They are always improving. This is the new toilets (still outdoor, but brick-walled) next to the old one (on the left).
This kitchen holds about 6 people and makes dinner for about 50-70 people on a full night.
In the time between arrival and bedtime, I wandered the area and talked to these vendors before they packed up for the day. They were Tibetan refugees. There is a large Tibetan refugee camp just outside of town, on the way up here. They have family members who are allowed to cross the border, go collect stones for them in Tibet, then they make jewelry and trinkets for sale. They are not Nepal citizens, but they are not allowed in Tibet either, so they are nomads, selling their wares along tourist tracks, and staying in the refugee camp for a few days in between to make more goods. This is them packing up for the day.
On the second day we stopped for tea and I studied this map of my trek and the surrounding area. I started at the bottom point on the first day, under the yellow dots, and followed the left-most paths up to Ghoripani on the second day, then did a pre-dawn hike up to Poon Hill for sunrise with a wide view of all the grand Himalayas around.
People go about their day all along the path. She's gathered daikon radish from the garden, and fed the goats before 8 am.
By 9 am we had ascended about a quarter of our elevation for the day from Tikhedhunga. We started at the blue roofs at the bottom (not the middle) of this photo. 
A pack of donkeys loaded with fuel and supplies passed us on the way.
Terraces continued with us…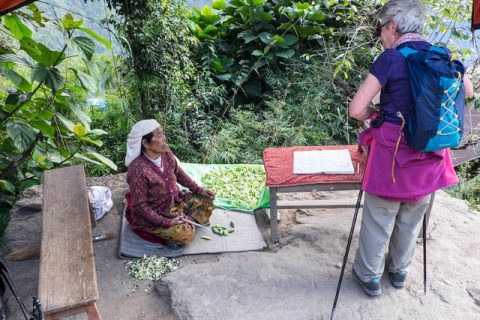 This lady was peeling vegetables while collecting funds for a local school that was destroyed in the 2015 earthquake. Suggested donation: 35 cents.
There are chickens everywhere. Eggs are a staple here, and chickens are easy to keep and multiply.
Rural kids are responsible for animal care, collecting firewood for cooking meals, and other chores before they go to school each day. She's feeding the chickens from the last photo.
Views as we passed through villages
Critters we shared the trail with. This is a water buffalo. There were also horses, oxen, donkeys and goats.
Spare tables near homes often held dried legumes.
One thing I have learned about Sherpa guides is, they are very reliable weathermen in the mountains. A couple of trekkers passed us without a guide. They looked worried about the potential rain and wondered out loud if they would reach their lodge before it began falling. Tsering, my guide looked up and said, "It won't rain today." They looked perplexed, but I said I trusted his experience in the mountains. It didn't rain that day. This is my guide Tsering and my porter Milan checking the weather.
How do you get to your terraces without a ladder? You make one.
This is a shrine made out of local stones. The bottom one shows none of the tectonic motion of these mountains, the top one definitely does. I thought it was visually stunning and a great geologic record of what goes on here. Some places are spared, some places are folded and bent with the moving ground. Laundry in the background.
About half an hour after we passed this shrine, we reached Ghoripani. On this second day we had ascended 3500 rough stones steps in the first two hours, then continued up for 4 more hours to get there. Total elevation gained: 4550 feet, 1387 meters from Tikhedhunga.
The next morning, in the dark of pre-dawn, was the highlight of the trek, but I'll publish that in the next post, because this one is long enough already.