Way back in 1989, I had to declare a major in college. I toyed with an architecture major, but the prof for the prerequisite: History of Cities was horrific and scared me from that path. I considered math (very briefly) before settling on Fine Art with an emphasis in photography and ceramics (yes, two opposite ends of the fine art spectrum). Art degrees are funny, you spend hours practicing this thing you know very little about, and then you read about and memorize all the masters in your specialty. Then you're meant to fill in the giant chasm between your work and theirs from your own guts before graduation.
Since my college years I've had it on my list to see Yosemite. I mean, it's been there since 1890, so I'm a bit over due. So when the chance came, I went… with 27 teens on a school trip as a chaperone. Below is my photo essay of the three national parks we visited in that six day stretch last week. Happy 100 years, National Parks! Descriptions in line.
Aah Frisco. The tourist tour. The entire week was spent on this tour bus – the one whose wind shied I am shooting through. Hey, you do what you can.
We began a series of about 10 hikes by walking across the Golden Gate. It was a good break-in.
This was the visit to San Fran that let me see things a bit differently. Through childrens' eyes, perhaps?
Sunset from our city camp site at the Presidio. Who knew you could camp there? As we set up tents, the tour bus owners brought halibut from one of their Alaska tours, and crevelle (like a grouper) from one of their recent Baja trips. He fried it up in camp while I gushed over the fact that he was feeding these hard-caught delicacies to kids!
Before we knew it we were on a gorgeous California beach. "Where are we?" We asked… Marin county, so this is the Marin Headlands beach. Quintessential.
I watched the surfers when I wasn't on alert for random kids running into the sea.
Before we knew it there were dorsal fins in the surf. I noticed all the surfers were turned away from the beach at once. I thought they were looking for the next wave, but then I realized they were spotting the fins.
By their spray we could tell it was mammals, not sharks. The surfers relaxed and paused, even, to watch the small pod pass. But the dolphins paused as well and played in the surf along with the surfers.
You can see one on the left of the image above.
And closer here.
Photographically I had several challenges. The largest was shooting with available light. Meaning, high noon most of the time. This is what Yosemite looks like at noon. (Photographers cringe, but I like the challenge.) El Capitan on the left, Half Dome in the middle, Bridal Veil Falls on the right. I look forward to playing with these in black and white.
Another challenge is that I have done no post production work on any of these shots. They are all right out of my new camera, jpg crunched at the moment they were shot. (At noon, can I say that again?) I hate spending time in post production (done enough darkroom hours for a lifetime), so this was a fun challenge: Get it right the first time; no messing, no fixing. (And bless Fuji for making this camera like my Minolta of 1985!) For the first time since my film days it felt like it should. And it feels luxurious. I love it.
Of those 10 hikes we did in a week, this was the doozy. I offered to lead the Upper Yosemite Falls Hike. It spends 3.4 miles going up switchbacks next to the waterfall and tops out 2700 vertical feet later at 6500 feet elevation. So it's like Mt Si, but starting at 3800 feet elevation instead of ending there… in about 80 degree weather. We felt it. And we almost got to the top, but since I only had 9 of the kids, we had to meet back up with the rest of the group at a certain time. We were all pretty tanked anyway (yes, me.) But 4 of the kids really wanted to make the top and ran ahead of me for the last 10 minutes. By my estimates they had 3-4 switchbacks to go until the top. So there you go. A peakbagger I am not. I turned them around.
This will be a pretty black and white when I get to post. Taken on the way back down.
Here's the fun part about this tour bus: You eat dinner under El Cap, you fall asleep on this moving hotel, and you wake up to imminent sunrise over Death Valley. As a landscape photographer I truly appreciated rolling over in my sleeping bag, so I could face the giant picture window, and run video of the sun rising over the thirsty brown mountains.
By noon we were fed, sweaty and marching across the Mesquite sand dunes in 105 degrees. This is where I will tell you my third photo challenge: I was limited to one lens: 18-55 mm. That's wide angle to standard portrait. No telephoto. I knew this, but these dunes are one of the few places where I wished for more reach. But more than that, I wished for sunset. I've always had visions of standing in the Sahara as the last camel caravan crossed a shaded ridge in the low light. This is what I've got. It's more than I had a week ago.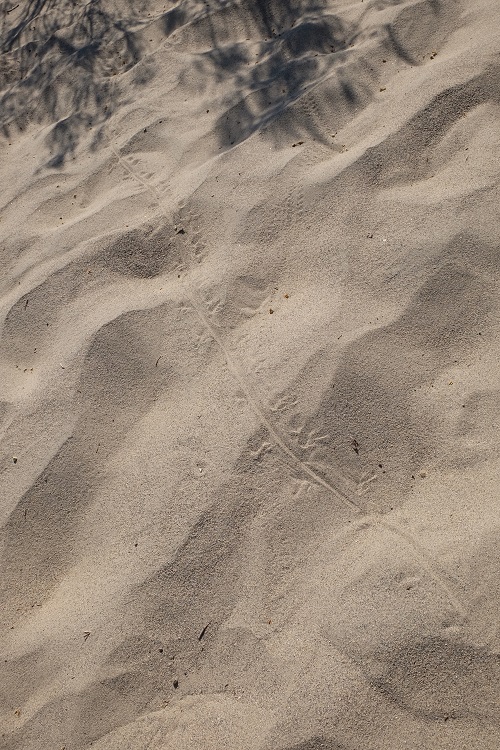 After cooking in daytime temps with the kids as they attempted sledding (in saucers) down the dunes, I strolled back to the parking lot shade shelter. Along the way I studied lizard tracks…
And snake tracks, and wind tracks.
And I realized in looking at these, there is no way to express how freaking hot it was at this moment, as sweat evaporated before it dripped from my head to my camera, and every step was … well it felt like an old Western. The cracked-lipped-dry-wineskin-stumbling-through-the-desert-type. We hadn't showered in three days.
Our third hike of this day was a loop around the rim of this lovely volcano: Ubehebe. I took the short route and turned around here, so I could (rest) take photos of the other group. And sit in the shade of the bus, and drink water.
We pitched tents in an oasis that night: Furnace Creek. Appropriately named. One thermometer read 120 degrees. It looked like this (below).
This is also my Ansel-channeling moment: All I could think was, Moonrise over Hernandez must have felt like this. It's a fun read if you want to know the history of that photo. Sotheby's probably doesn't want my rendition, however. It was still steaming as the sun went down, colors and light realized after the heat of the day dropped to a level that we could actually appreciate the space we were in. It was about 95 degrees as we tucked into sleeping bags that night.
Death Valley Sunset
More hiking the next day. Zabriskie Point – a photographer's trap in the desert. It was gorgeous at mid-day. I can imagine the row of photographers who gather at sunrise to shoot it. We hiked down into it instead.
We took a wrong turn along the path through the Golden Canyon and ended up on a slightly longer hike than we planned. It was 105 again. We were hiking. This sign caught my eye. It felt so perfectly placed.
Traveling light, 1.5 mile trail down from top to bottom… the bus will grab us at the end… if we find it.
An hour later we were at the edge of Death Valley, visiting a date ranch. I must admit, this is the first time I connected the term "date palm" to the actual thing you eat. Hmm. They grow here. Along with the saguaro cactus.
So of course we had to hike through them. And if you're counting (I left out the salt flats) this is six hikes in two days. All in Death Valley. It's a dry heat.
I trotted up one of the near ridges and got a good look at the date farm (and the oasis that feeds it). It looked like what I imagine Saudi Arabia looks like. Gorgeous in its inhospitable terrain and climate.
A few cactus shots… these guys were dancing in the last of the sun.
Aloe vera
last light on the rocks.
The remains of beehives among the junk and rubble of the date farm. Bees are really useful creatures, folks.
Once more we converted the bus into what they called "the miracle" so that we could sleep during a night drive. When the bus stopped it was dawn in Joshua Tree. I was itching for some early light (and temps) so I grabbed my camera, crawled over a dozen sleeping bodies, and ran kidless (!), amok through the poofy trees and rocks as the day came alive. Click. Breathe. Click, click, scamper… look. Listen. Silence. Click.
As I returned, the bus was waking and setting up breakfast.
And on our final hike in J-Tree, we ran across this lovely gopher snake. He was about four feet long, and played it really cool when 27 kids encircled him to get a look.
If you look on a map of California, Joshua Tree is in the southeast – almost centered in the triangle that is made by Los Angeles (west) Phoenix (east) and Las Vegas (north). So it took one more night drive, aka The Miracle, to return us to San Francisco for a 11 am flight the next morning.
Thanks for reading.